Post your worst wig-styling failures here, and perhaps share what you learned from the experience.
This topic was inspired by the "cutting bangs" thread, in which it was mentioned that just about everyone has to start styling somewhere, and most of us probably have a few mangled wigs. So in the interest of inspiring those who might be nervous about styling, I thought this might be a fun thread to show that we've all had some learning experiences.
Mods - please let me know if this needs to be moved. I thought about posting this in the styling section, but the styling section is in the "Arda-only" area of the forum. I figured some of these experiences may pre-date Arda wigs (including my own) and include other wig brands.
I'll start off. I haven't done a lot of wig styling, to be honest... it always made me nervous. But back in 2006, I decided to cosplay Finn Fish from Kamikaze Kaitou Jeanne: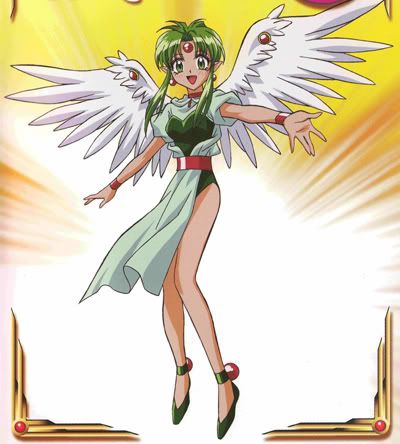 As you can see, she has interesting hair... mostly short overall, poofy bangs, and long straight locks on the sides. I purchased a long wig with the intention of cutting and styling it. (One of Cosworx's old defunct styles). I could have just added wefts to a short wig, but in 2006 it was difficult to find a wig and wefts that were the same shade of green.
Wig before:
I basically just went at the thing with a pair of scissors, with no concrete plan other than "keep cutting until it looks right". I tried to keep it as even as I could, but the results were less than stellar:
The back is completely uneven, and there's kind of a chunk missing on the back of the head. It actually looked much worse in person... because I tried to take photos that were more flattering. Also, my attempt at poofing up the bangs just completely did not work. They kept flopping back down into their original shape, possibly because I was using the wrong product. I can't even remember anymore what it was. I ended up just washing it out and wearing it as-is.
From this experience, I learned to have a concrete plan when cutting wigs. I also learned to have a lighter hand with the scissors... it's easy to cut hair off, a lot harder to put it back. This was also my first experience with the whole concept that generic wig heads are really not human-head-sized.